Today Kessler Crane announced their latest motion control product: the CineShooter, a high quality pan and tilt head for timelapse and video/film productions. It comes right after their other latest product, the Second Shooter Pro controller.
The CineShooter is based on the technology and architecture found in their older CineDrive and Second Shooter motion control systems.
Built from the ground up, the CineShooter promises to support cameras from 15 lbs / 6.8 kg all the way to 25 lbs / 11 kg using the additional Heavy Duty Support Module.
I used to own and use the Second Shooter moco system back in Australia, which was a very reliable and high quality piece of equipment.
Features
5 axis control directly through the head, with no external remote needed. This can be expanded to up to 9 axes using the Wireless Expansion Module.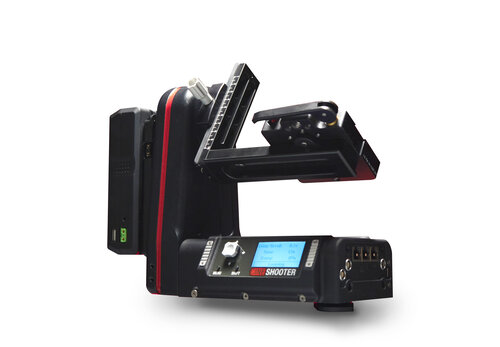 Controlled via the on board control surface. Alternative control options are the CineShooter remote (a new mobile app), PS4 or XBOX controllers, KOS software or third party software like DragonFrame.
Using the new Smart Handle accessory you can enable FreeMotion mode, where the motors loosen their tension which allows you to manually move the head in position. This is great for quickly setting up or adjusting your motion control keyframes or waypoints.
Paired with a phone it promises to bring Facial Tracking and Emulation Mode to "mimic" movement.
Hardware specifications
On-board hardware
Nodal Pan & Tilt head
Arca-Swiss base mount
Fully adjustable Arca-Swiss mounting platform to achieve nodal center
All-aluminum chassis
Impact-resistant housing
Capacity supports cameras up to 15 lbs. and 8" in width
Light and portable 5.4 lb. head weight
Up to 5 axes of control on-board (2 internal, and 3 external)
General features
WiFi and Bluetooth enabled
Fewer cables (or none when using just the pan/tilt head)
Up to 10 programmable keyframes on-board
Backwards compatibility with Second Shooter accessories (includes FIZ, pan, tilt, slide, and turntable motors)
Smoother, more efficient Bezier-based motion curves
Control options
Onboard control surface with joystick and display interface
Third party support for Alpha Wheels
Third party support for Dragonframe
DMC Protocol for real-time moves through third party developers
Support for Kessler kOS software
Support for CineShooter Remote mobile app (available for iPhone, iPad and Android)
Support for PS4 and XBOX controller operation
Fully-customizable button mapping through PS4 and XBOX controller
True remote operation via dedicated webserver
Shooting modes
Live Motion Mode for capturing cinematic, live action movements
Timelapse Mode with a built-in intervelometer for capturing programmed timelapse moves
Stop Motion Mode to capture intervaled frames for stop motion animation
Manual Mode for live operation without programmed keyframes
FreeMotion Mode when activate "relaxes" the motors, and allows user to freely hand-position the camera to program keyframes
Facial Tracking Mode (requires mobile phone and CineShooter Remote App)
Emulation Mode provides a "mimic" action utilizing the accelerometer of your phone to translate pan and tilt motion to the head
Silent Mode quietly operates motors for sound-sensitive situations
Fast Mode for specialty VFX shots, high frame rate, and fast camera motion
Power capabilities
12v DC LEMO 2 Pin Power
5.5mm x 2.1mm 12v Barrel Connector for MagPak
Optional V-Mount or Gold Mount battery plate
Accessory ecosystem features
Smart Handle Module provides additional handling point, as well as an integrated FreeMotion button
Heavy Duty Support Module upgrades camera payload from 15 lbs. up to 25 lbs.
Wireless Slider Motor with additional on-board axis expansion, i.e. a "wireless hop" to existing turntable and FIZ motors)
Wireless 2-Axis Expansion Module allows 2 additional axes of operation via wired or wireless connection
Mobile phone mount for Facial Tracking Mode
Additional accessories coming in the future
You can pre-order the Kessler CineShooter starting today from their website here. Pre-orders will start shipping in September. Pre-ordering takes a $250 deposit and saves you $300 on the final price.
The list price will be $2800 USD, and you can receive a $600 credit if you trade in your older Kessler motion control system.
Other motion control systems
Kessler Crane isn't the only brand making L-shaped motion control mounts. I've listed some other models here so you can compare the CineShooter to what else is on the market.
Emotimo Spectrum ST4
Check out the Emotimo Spectrum here.
Edelkrone HeadPlus
Check out the Edelkrone HeadPlus here.